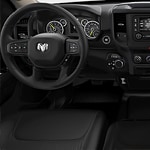 If you're in the market for a new light-duty pickup truck, the Ram 1500 should be at the top of your list. The Ram 1500 is equipped with a multitude of high-performance features that make it a favorite of pickup truck drivers from all walks of life, and the latest models are available for test driving right now at our convenient location here in Safford, AZ.
When selecting your Ram 1500, you'll get the chance to pick a cab size and bed configuration that suits your exact needs. You'll also have the option of 18-inch, 20-inch, or 22-inch wheels that are designed to look great and resist damage in even the toughest conditions.
The Ram 1500's bed can be outfitted with an organization system that simplifies the loading and unloading process. Pulling a trailer is also made easier with a powerful engine and transmission under the hood as well as sturdy, well-constructed towing utilities.