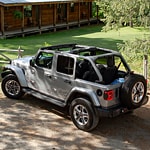 When you want a compact SUV that you can customize for every ride, look no further than the popular and new Wrangler from Jeep. This all-new model is unique in its ability to add and shed exterior body parts without impacting its overall function and reliability. Learn what features that you can take off and add on to make the Wrangler suited ideally for your driving purposes.
It comes standard with a soft top that gives the cabin an airy look and feel. However, you can also get a hardtop for the Wrangler that you can add when you want to provide more security and stability to the top of the vehicle. You can even remove both tops to create an entirely open cabin.
It also has a back window that you can take off or add on accordingly. You have the control to make the cabin as open and airy as you want.